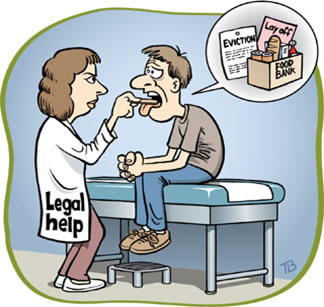 Seeking solutions to legal problems in everyday life that may be harmful to your health
About the Pilot Project
People living in poverty are more likely to report multiple problems such as bad health, unemployment, low income, poor housing and family breakdown. Neighbourhood Legal Services has implemented the Legal Health Check-Up Pilot Project in our clinic to help people who are living in poverty so they can identify legal problems before they become crises.
This project is funded through Legal Aid Ontario's Fund to Strengthen Capacity of Legal Clinics. Our clinic is targeting individuals who reside in rural Middlesex County as often many of those regions have individuals whose legal needs go unmet.
Who is this Check-Up for?
If you do not have enough money to live in, a good home or job, or family, social and health supports, your legal health may be at risk. This check-up covers some of the legal problems we help people in our community solve every day.
What happens after you complete the Check-Up?
Upon completion, the Check-Up will immediately be sent to us. We will review it and contact you regarding next steps.