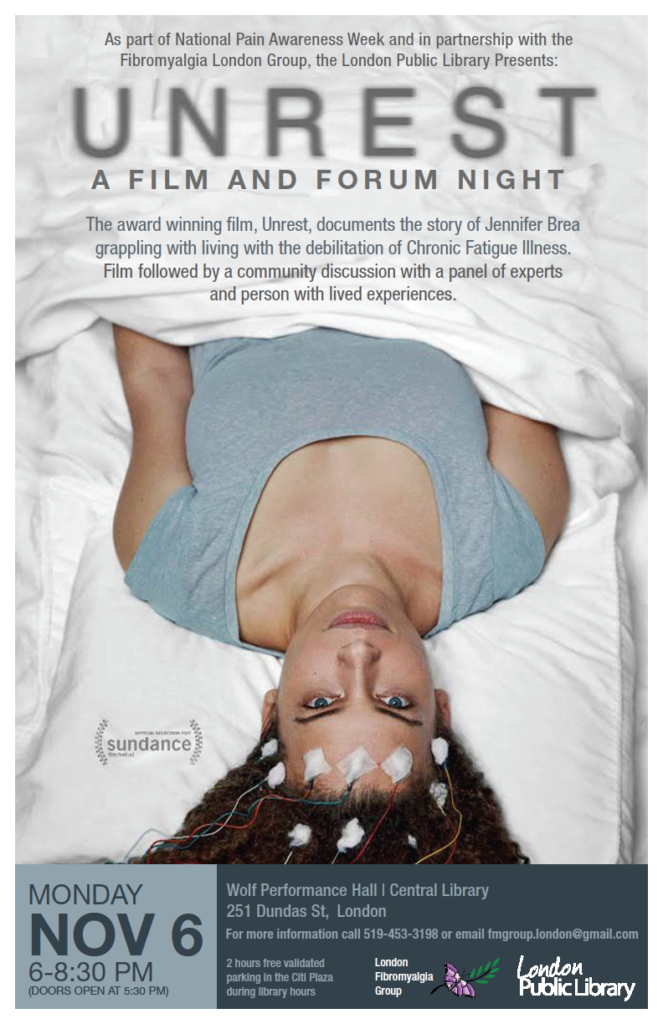 Did you mark your calendar to attend the Fibromyalgia London Group's special event, presented in partnership with the London Public Library? 
UNREST: FILM & FORUM NIGHT
Monday, November 6, 2017
Wolf Performance Hall, Central Branch Library
251 Dundas Street, London 
6:00-8:30pm [Doors Open: 5:30pm]
FREE Admission ~ FREE 2-hour parking with validation ~ ALL Welcome!
*** This is a scent-free, accessible, inclusive event, held in a open, safe space ***
Following the 90-minute film, we will be hosting a 60-minute community forum on "Paradigm Shifts: Changing Attitudes and Mindsets Towards Fibromyalgia, Chronic Fatigue Syndrome, and Chronic Pain" between our audience members and a Panel of Experts.  The goal of the forum is to shed light on what's being done in terms of medical and public education; treatments;  advocacy efforts for more serious medical/government recognition these illnesses and changes to government legislation, and the need for more medical research and government funding to better understand these illnesses and find a cure.   We hope this discussion will provide YOU with more insight, education, deeper understanding, resource information and support!
We are delighted to have on our Panel of Experts:
Lynn Cooper – President, Canadian Pain Coalition
Dr. Robert Banner, MD, CCFP, FCFP, FRCP – Integrative and Functional Medical Practitioner
Jacqueline Doummar – Self-Management Program Outreach Officer, South West Local Health Integration Network
Dr. Brock Rondeau – General Dentist with special training in the treatment of TM Dysfunction, Snoring and Sleep Apnea
Erika Calhoun – Marketing Coordinator, Bodystream Medical Marijuana Services
Terry Lynn Clarkin – Fibromyalgia London Group's Sharing Circle Program Co-Coordinator & 27+ years living with FM, CFS & CP
REGISTRATION IN ADVANCE IS REQUIRED!  Please reserve your seats today!
On Eventbrite: https://www.eventbrite.com/e/unrest-film-forum-night-tickets-38540328159
By Email: [email protected]
By Phone: Jacqueline Fraser, 519-453-3198
And please help spread the word – it's important our London and area community knows about this opportunity to talk about our chronic invisible illnesses!